Hollow Metal Door Repair PROs
Commercial hollow metal doors can be replaced to improve your facility security and enhance appearance.

External Hollow Metal Doors Repair
Replace old outdoor hollow metal doors and metal door hardware for safe and secure operation.

Need Fire-Rated Commercial Metal Doors Installed?
Install new fire-rated hollow metal doors including hardware.
Lehigh will professionally install new hollow metal doors and add to safe and secure operations.
Hollow Metal Door Service External & Internal Door Installation
Hollow metal doors can be quickly and conveniently replaced or repaired by PRO installation experts.

Need a new rolling door for your warehouse or distribution center?

Rolling steel & metal doors and frame installation.

Replace hardware to upgrade your hollow metal doors to work like new. Door closers and pivots, locks and key systems, continuous hinges, fasteners.
Replace or repair hollow metal doors for a better appearance and improved safety including full frames and metal door hardware replacement with quick installation service.
Our staff of over 70 employees are dedicated to help with all aspects of your door job. From Project Management to Information Technology, and from Field Supervisors to PRO Technicians you will have all the resources needed to complete your job.
We consistently deliver construction projects of all sizes, from building repair and maintenance to multi-million dollar design-build new construction projects.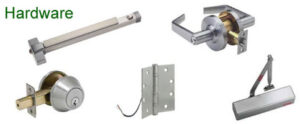 How can we help your facility maintenance or building repair?
Explore More of Our Services