A trusted commercial general contractor delivering construction services with two mainstay principles in mind: WORK HARD and TREAT PEOPLE RIGHT.

Our team lives by these principles as we strive to deliver the best customer experience - safely & on time in Buffalo & WNY.
Start a project with us
We provide clients with customized, practical construction building services and solutions, emphasizing speed to market in an environment of trust, collaboration, and transparency.
Lehigh Project
Our fleet of PRO service vans is equipped to handle any small construction job. We perform thousands of facility maintenance, building repair work 24/7 as one of Buffalo's best general contractors for commercial construction projects.
Lehigh Pro
Lehigh PRO quick-response emergency services provide immediate building repairs. As a trusted commercial general contractor in Buffalo and Western New York, we take steps to ensure work is completed in a safe, secure and timely manner.
Lehigh Pro
Lehigh Industrial Services leverages our experience in concrete work, steel & metal, masonry, excavation and sitework for all construction projects. With nearly 40 years of plant experience in chemical, food & beverage, pharmaceutical, warehouse & distribution and industrial manufacturing facilities in the Buffalo and WNY area, Lehigh has worked in your industry.
Lehigh Industrial Services
Get to Know Us
Safety
Lehigh's safety philosophy remains unchanged: send everyone home safely to their family every day. We strive to remain on the cutting edge of industry safety standards and practices by maintaining our commitment to training and educating employees so that they perform in the safest manner possible.
Continue Reading
History
Lehigh Construction was founded in 1984 by owners Dave Knauss and Tom Glomb as commercial general contractors in Buffalo and Western New York.
Almost 40 years later, we have grown into one of Buffalo's most trusted general contractors, offering a full array of construction services.
From small scale building maintenance and repair to complete plant expansions and new builds, Lehigh leverages expertise in all aspects of construction.  Let us be your general contractor or construction manager on your next building project.
Continue Reading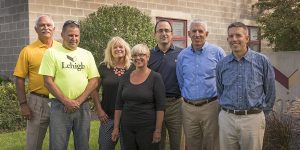 Our Values and Relationships
The philosophy of Lehigh is to do whatever it takes to get the job done.
Our purpose is to provide custom facility services that enable our clients to stay focused on serving their customers. We believe that long-term relationships with clients, partners and co-workers are the foundation of our success and is why we are one of Buffalo's trusted general contractors for WNY businesses.
Continue Reading