Lehigh PRO has repaired thousands of sidewalks, curbs and parking lots ensuring that they are safe.
We know how your surface was created, and can restore it like new after repairing the root cause of your specific issue.
Protect your customers, employees and visitors by fixing trip hazards and repairing winter or water damage today.
716.662.2151

Repair trip hazards
We know how they sidewalks and curbs are constructed, and will repair you sidewalk or fix your curb like new.  We've restored thousands of sidewalks to new condition and have completed similar jobs.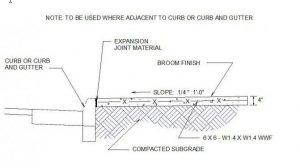 Restore your facility to safe condition
Lehigh PRO will fix your sidewalk or curb after an accident like new, and help protect employees and customers important to your company.

Fix Curbs, sidewalks and Driveways - ADA Compliance
Lehigh PRO is expert at repairing trip hazards, and can bring them up to ADA compliance if needed.
We fix and repair trip hazards to get you back to safe conditions quickly:
Setup

A Lehigh PRO trip repair expert will take cautionary steps to ensure that we can fix your trip hazard and complete your work in a safe and timely manner.

Execution

Your job is completed to the best of our abilities. We know Buffalo, Amherst and WNY weather and how it affects your surfaces.

Closeout

The Lehigh PRO team will review the work completed with you to ensure your satisfaction.

Follow Up

A Lehigh PRO service manager will follow up to make sure your trip hazard repair is holding up and maintaining the standards of quality you expected from Lehigh.
Our staff of over 65 employees are dedicated to help you with all aspects of your construction job. From Project Management to Information Technology, and from Field Supervisors to PRO Technicians you will have all the resources needed to complete your job.
We consistently deliver construction projects of all sizes, from building repair and maintenance to multi-million dollar design-build new construction projects.
How can we help your facility maintenance or building repair project?
Explore More of Our Services